After a week of headlines about apprenticeships, including ours which highlighted the growing underrepresentation of young people, it's time for our employability programme Talent Match London to receive some recognition for creating a lasting change in youth unemployment services.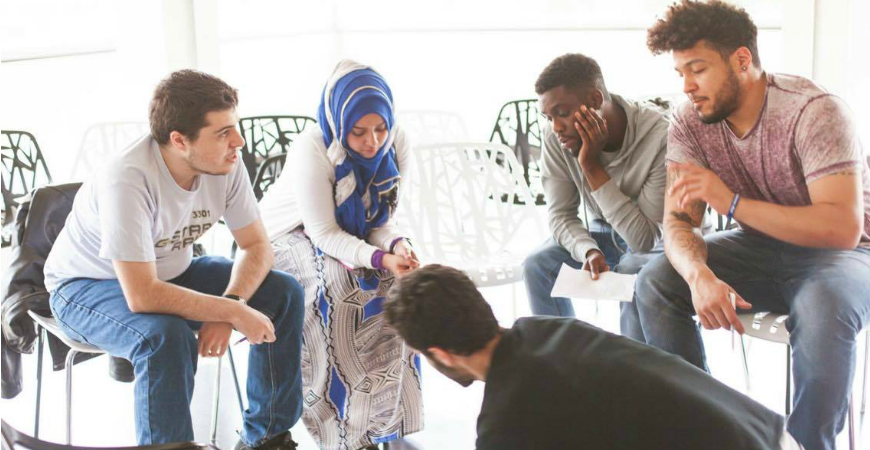 With unemployment ranking as the number one fear among Britain's youth, there has rightfully been an increase in the backing and precedence for Talent Match London – a partnership of organisations which places youth-leadership at the core of tackling the biggest issue young people feel they face.
Funded by the Big Lottery Fund, and run by London Youth with Community Links as a main partner, Talent Match London launched in 2014 to support long-term unemployed young people aged 18-24 into positive, productive futures. With two years into its service delivery, almost 1,000 young people across 7 London boroughs have been engaged on the programme.
This includes those who are completely outside of the benefits, work and training system and those facing the biggest barriers to getting work: from young mums to former gang members, to those simply lacking the confidence or skills to find jobs.
Whilst many programmes rely on young people 'coming to them', Talent Match London is different and has been hugely successful in its peer-to-peer outreach. The team spend a lot of time targeting hard-to-reach communities and in doing so, of the 939 young unemployed people so far engaged: 11% are caring for somebody; 16% have a disability; 17% have a child; 20% are ex-offenders; and 18% have experienced homelessness.
Following detailed mapping of need and existing provision, the Big Lottery Fund have continued its funding for a further three years giving the opportunity for sustainable employment for young people.
What makes Talent Match stand out from the rest?
We asked Talent Match London's Youth Adviser Fateha Begum, how the programme is different to other employment schemes out there?"Talent Match London is youth-led which you don't tend to see in many services. It fully involves the participants and has a Youth Advisory Committee who are involved from the strategic level to outreaching and planning events in the local community". From the onset, Talent Match not only focusses on getting young people into a job, but it gives them the skills, the positive attitude and the drive to build themselves a career Fateha explained.

Fateha signed up to Talent Match through Community Links when it launched and described the programme as being too surreal to be true. She had been volunteering with Community Links for two years prior to becoming chair of the Youth Board which is made up of young people from across the partnership. Now as a young person in a paid Youth Adviser position for Talent Match London, she explained how young people play an important role in the service delivery: "They understand what their barriers are and can describe where they are coming from, so building solutions for them is a lot easier than having to base things on assumptions. The programme gives young people empowerment, but the support is always there from people who care and have a passion for what they are delivering".
As a main partner for Talent Match London, Community Links takes a holistic approach towards engaging young people. We work with West Ham United Foundation, City Gateway and Poplar Harca in the areas of Barking, Dagenham, Newham and Tower Hamlets. Through our delivery of the programme, young people are matched to a dedicated personal advisor and in some cases also get a Talent Mentor from Community Links who provide guidance and advice on a one-to-one basis to boost young people's confidence and skills with the ultimate aim of supporting them into careers.
Youth Unemployment – one of the biggest challenges facing the UK's labour market
Latest figures show that young people in the UK are more than twice as likely to be unemployed than people of other ages. Despite a wealth of investment into interventions, there is a disconnect between young people and employers. Particularly, a disparity between what young people consider important and what employers are actually looking for.
A Reed survey of 2,000 young people across the UK highlighted that three out of five placed 'skill set' ahead of 'mindset' when considering what employers are after – while a previous survey with employers showed that 96% of employers picked 'mindset' over 'skill set' as the key element in those they seek and retain.
This mismatch of expectations is being confronted head-on by Talent Match London. Its model for service delivery brings together detailed input from young people, partnerships of employers as well as education providers and others towards boosting opportunities for young people. Talent Match London has been designed to provide not only the skill set, but the confidence, resilience, networks, and the sustained backing that young people might need as they set out to navigate a fulfilling career path.
During its first two years of delivery, Talent Match London have helped 227 young people into employment, with continued support to make sure they can sustain jobs once they are in them. A further 39 young Londoners have been supported into self-employment.
Talent Match London supporting young people into meaningful careers
Talent Match London will be using the Big Lottery Fund investment to continue placing young people at the centre of the programme, ensuring the principles of good youth work are fundamental to the way the programme is delivered. Over the next three years Talent Match London will benefit 2,500 16-24 year olds, all of whom have been out of work for over a year, placing a particular emphasis on those who are 'hidden'.
To find out more information about the youth-approach programme you can access Talent Match London's two-year learning report here.